Kaixin001 is experimenting with an open platform, inviting select third party developers to participate. Kaixin001 lags behind RenRen and 51.com, but all Chinese social networks are now slowly but surely moving towards openness. Kaixin001 is immensely popular with Chinese white-collar workers, with a total of 25 million daily active users (86 million registrations).
It originally rose to prominence by spamming and its viral social games (Parking Wars and Happy Farm). At its peak Kaixin001's Happy Farm had 15 million daily active users and still has over 10 million today, according to Hans Tung, a partner at Qinming Venture, which invested in Kaixin001. Although Kaixin001 since refocused on relationships, games are one of the most lucrative monetization channels for social networks.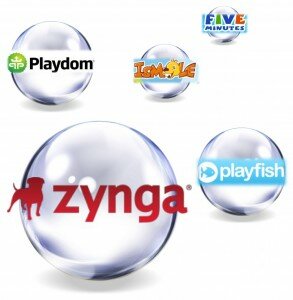 The moderator of the Financing for Social Games panel at ChinaJoy challenged panelists, "Is social gaming a fad? If so, let's wrap this up in the next five minutes. Then we can all go home and start a Groupon clone instead." Responses were mixed on the future financial fortunes of social game developers, though no one foresaw a collapse.
A consensus did emerge that more social games will target niche audiences. Panelist Atul Bagga, Vice President at ThinkEquity, commented, "So far we see horizontal applications, that is games that everybody is playing: your mom, your granny, your niece, your daughter. I think there is a lot room for vertical applications, for the smaller niche, for example, Watercooler's Kingdoms of Camelot. It does not have huge usage, but the game kicks butt because the ARPU (average revenue per user) is very high."
Though copying of both foreign-made and Chinese-made games is rampant in China's social games industry today, that's not what will drive the industry forward.
Liu Jian, chief operating officer of Oak Pacific Interactive, owners of the popular RenRen social network, stated, "Copying cannot be the future model for social game developers, unless you're Tencent."
That barb, rare at a Chinese conference like the recent ChinaJoy event, prompted a round of applause. The issue of copying is a common one in game industry history, with the likes of Zynga, Electronic Arts, and Activision Blizzard being blasted for it at some point or other.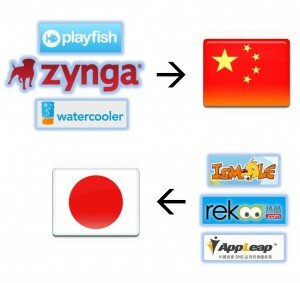 China's social games industry—the players, games, rules, and business models—is evolving at a blistering pace. China's Top 10 Social Games and Top Social Networks, a new report by BloggerInsight, analyzes the latest changes.
Only a year ago, social games in China were developed by individuals or a small team on a shoestring budget, destined for RenRen (then Xiaonei) or other Chinese networks. Today, buoyed (and pressured) by investment (primarily foreign), developers have formed serious teams and launch their games in more lucrative markets.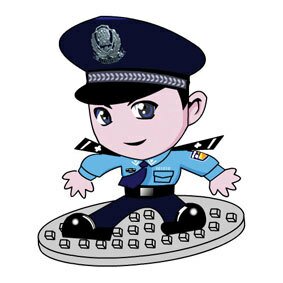 Yesterday (June 22nd, 2010) the Ministry of Culture of the People's Republic of China released new regulations on online games, which will come into effect on Aug 1st, 2010. All online and social games will be subject to stricter scrutiny going forward.
The most sweeping change is the requirement of real names and valid ID, which would completely change the anonymous nature of the Chinese internet. The vast majority of gamers and BBS and QQ users use nicknames rather than real names. Networks, portals, and game developers are all likely to balk unless the policy is vigorously enforced.
The other key change is that online platforms are prohibited from selling virtual currency to minors (under 18). Tencent, the Chinese internet giant that caters to teens, had its stock fall about 5% in Hong Kong upon the news, despite issuing a statement that it would not be affected.
Originally posted at VentureBeat
There is no single dominant network, no Facebook for all of China. The actual Facebook.com is blocked by government censors (Chinese sites all obediently and quickly remove "objectionable" content). No single social network will conquer the China market in the immediate future, least of all a foreign one.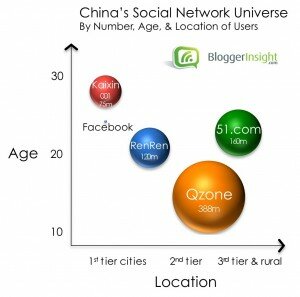 Instead, there is fierce competition between the top four:
RenRen (formerly Xiaonei) copied the Facebook model: it started with students and has since opened to all.
Kaixin001 attracted white-collar office workers by focusing on fun, addictive social games.
Qzone gained young teens and rural users via cross-promotional traffic from QQ Messenger.
51.com started strong in lower tier cities, but growth has since slowed.
This post will assess market share, profile the top four, and boldly predict the future.
Benjamin Joffe of +8* posted his complete commentary "Sorting Failure From Success in Social Networking | The Tencent Case" in response to our latest piece "3 Reasons Why Tencent's Qzone is a Failure." Thanks to Benjamin Joffe for posting this!
While the overall success of Tencent as a company is pretty obvious, our friends from Blogger Insight took the specific case of Tencent's SNS properties Qzone, QQ Campus and Xiaoyou to see how they were performing. Their conclusion is that Tencent pretty much failed at SNS. Our take is less conclusive. Read the full piece here.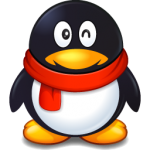 Originally posted at VentureBeat
Tencent, a Chinese internet giant in instant messaging, social networks, and mobile, posted $1.8 billion in 2009 revenues, an increase of 74% from a year ago. For the record, that's about three times Facebook's in 2009 revenues.
Tencent's flagship product, QQ Messenger (with a cute penguin logo), is the first introduction to the internet for most Chinese teens. It claims a whopping 523 million active users. Tencent then cross-promotes its other online offerings: QQ Show, QQ Game, QQ Music, QQ Pets, and its social network, Qzone.
Tencent is the undisputed world leader in micropayments. Each QQ service is connected to a "diamond membership" of a different color, that offers free and exclusive virtual goods. For instance, the "red diamond" membership helps you dress up your avatar for face-offs against other online fashionistas in QQ Show. About 10% of Tencent's active users pay for such memberships, which cost around $1.50 per month. Over 75% of total revenues come from these "internet value-added services," which grew 94% in 2009.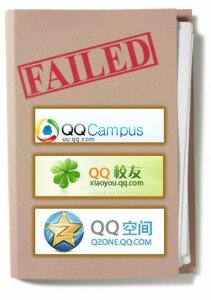 Qzone, "the largest social network in China," and Tencent's other SNS (QQ Campus and Xiaoyou), are failures for three reasons:
Squandered Opportunity: 

Chinese internet giant Tencent was enviously positioned to dominate social networking, but blew its chance. QQ Campus failed. Xiaoyou is far behind the competition. Qzone does not reach any new demographics.

The Site's Design and Features are Lousy: 

The Qzone website is an unintuitive eyesore. Its applications are of poor quality and frequently inaccessible.

Is Qzone Really No. 1? 

Tencent's claim of 305 million active users is highly suspect; even its classification as an SNS is questionable. Its competitors are encroaching upon its core user base of young teens.
Does this mean Tencent will soon collapse? Absolutely not.
Pages
Categories
Blogroll
Archive
Meta