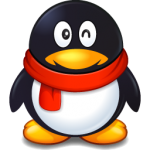 Originally posted at VentureBeat
Tencent, a Chinese internet giant in instant messaging, social networks, and mobile, posted $1.8 billion in 2009 revenues, an increase of 74% from a year ago. For the record, that's about three times Facebook's in 2009 revenues.
Tencent's flagship product, QQ Messenger (with a cute penguin logo), is the first introduction to the internet for most Chinese teens. It claims a whopping 523 million active users. Tencent then cross-promotes its other online offerings: QQ Show, QQ Game, QQ Music, QQ Pets, and its social network, Qzone.
Tencent is the undisputed world leader in micropayments. Each QQ service is connected to a "diamond membership" of a different color, that offers free and exclusive virtual goods. For instance, the "red diamond" membership helps you dress up your avatar for face-offs against other online fashionistas in QQ Show. About 10% of Tencent's active users pay for such memberships, which cost around $1.50 per month. Over 75% of total revenues come from these "internet value-added services," which grew 94% in 2009.
Pages
Categories
Blogroll
Archive
Meta