Kaixin001 is experimenting with an open platform, inviting select third party developers to participate. Kaixin001 lags behind RenRen and 51.com, but all Chinese social networks are now slowly but surely moving towards openness. Kaixin001 is immensely popular with Chinese white-collar workers, with a total of 25 million daily active users (86 million registrations).
It originally rose to prominence by spamming and its viral social games (Parking Wars and Happy Farm). At its peak Kaixin001's Happy Farm had 15 million daily active users and still has over 10 million today, according to Hans Tung, a partner at Qinming Venture, which invested in Kaixin001. Although Kaixin001 since refocused on relationships, games are one of the most lucrative monetization channels for social networks.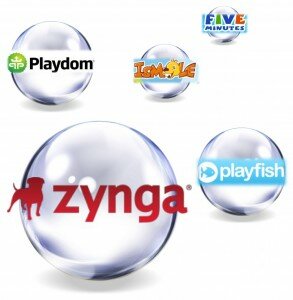 The moderator of the Financing for Social Games panel at ChinaJoy challenged panelists, "Is social gaming a fad? If so, let's wrap this up in the next five minutes. Then we can all go home and start a Groupon clone instead." Responses were mixed on the future financial fortunes of social game developers, though no one foresaw a collapse.
A consensus did emerge that more social games will target niche audiences. Panelist Atul Bagga, Vice President at ThinkEquity, commented, "So far we see horizontal applications, that is games that everybody is playing: your mom, your granny, your niece, your daughter. I think there is a lot room for vertical applications, for the smaller niche, for example, Watercooler's Kingdoms of Camelot. It does not have huge usage, but the game kicks butt because the ARPU (average revenue per user) is very high."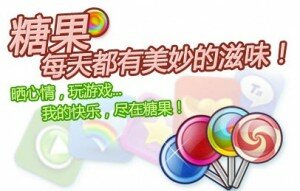 Candy (Tang Guo / 糖果) mixes microblogging, social games, and badges, a mashup of Twitter, Facebook, and FourSquare. While most social networks are scaling back social games to focus on real friends (e.g., Facebook, RenRen, and Kaixin001), Shanda's Candy embraces games (with a semi-open platform) and nicknames.
It's almost cliché for Chinese internet giants to launch a microblog or social network; nearly all have tried. The challenge for Candy (in Beta) is to gain initial traction and to achieve user retention. The latter could be challenging for such a casual site, there's a reason the other social networks are moving away from that model.
Candy reflects Shanda's effort to diversify into casual games. Over 86% of Shanda's 768 million USD in 2009 revenues came from Massive Multiplayer Online Role Playing Games (MMORPGs), while casual games accounted for just 12% of revenue. As Shanda's bread-and-butter MMORPGs like Woool and Mir 2 age, it is imperative that the firm finds new hits or market models.
Though copying of both foreign-made and Chinese-made games is rampant in China's social games industry today, that's not what will drive the industry forward.
Liu Jian, chief operating officer of Oak Pacific Interactive, owners of the popular RenRen social network, stated, "Copying cannot be the future model for social game developers, unless you're Tencent."
That barb, rare at a Chinese conference like the recent ChinaJoy event, prompted a round of applause. The issue of copying is a common one in game industry history, with the likes of Zynga, Electronic Arts, and Activision Blizzard being blasted for it at some point or other.
Originally posted at VentureBeat
ChinaJoy, China's equivalent of the Electronic Entertainment Expo (E3), is famous for its thousands of show girls, new title releases, and the flashy sports cars of the top executives behind it all. This glitz not only attracts droves of young men—potential gamers—like moths to a light, but also reflects the rich fortunes of hardcore online games in China.
Pages
Categories
Blogroll
Archive
Meta