Kaixin001 is experimenting with an open platform, inviting select third party developers to participate. Kaixin001 lags behind RenRen and 51.com, but all Chinese social networks are now slowly but surely moving towards openness. Kaixin001 is immensely popular with Chinese white-collar workers, with a total of 25 million daily active users (86 million registrations).
It originally rose to prominence by spamming and its viral social games (Parking Wars and Happy Farm). At its peak Kaixin001's Happy Farm had 15 million daily active users and still has over 10 million today, according to Hans Tung, a partner at Qinming Venture, which invested in Kaixin001. Although Kaixin001 since refocused on relationships, games are one of the most lucrative monetization channels for social networks.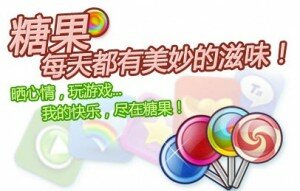 Candy (Tang Guo / 糖果) mixes microblogging, social games, and badges, a mashup of Twitter, Facebook, and FourSquare. While most social networks are scaling back social games to focus on real friends (e.g., Facebook, RenRen, and Kaixin001), Shanda's Candy embraces games (with a semi-open platform) and nicknames.
It's almost cliché for Chinese internet giants to launch a microblog or social network; nearly all have tried. The challenge for Candy (in Beta) is to gain initial traction and to achieve user retention. The latter could be challenging for such a casual site, there's a reason the other social networks are moving away from that model.
Candy reflects Shanda's effort to diversify into casual games. Over 86% of Shanda's 768 million USD in 2009 revenues came from Massive Multiplayer Online Role Playing Games (MMORPGs), while casual games accounted for just 12% of revenue. As Shanda's bread-and-butter MMORPGs like Woool and Mir 2 age, it is imperative that the firm finds new hits or market models.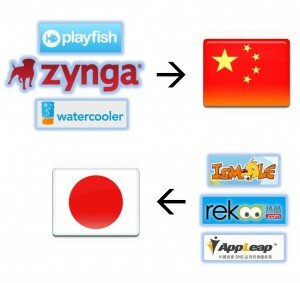 China's social games industry—the players, games, rules, and business models—is evolving at a blistering pace. China's Top 10 Social Games and Top Social Networks, a new report by BloggerInsight, analyzes the latest changes.
Only a year ago, social games in China were developed by individuals or a small team on a shoestring budget, destined for RenRen (then Xiaonei) or other Chinese networks. Today, buoyed (and pressured) by investment (primarily foreign), developers have formed serious teams and launch their games in more lucrative markets.
Farm games are a craze on social networks worldwide, but its origins are mistaken. The story of farm games is a reflection of the young social games industry: rife with copycats, riches, and misunderstandings.
Origins
Most social games are far from revolutionary: farm games pre-date their social network successors by 15 years. SimFarm, released by Maxis in 1993, is the earliest to this author's knowledge. Harvest Moon, released by Victor Interactive Software in 1996, further popularized the genre. To date, the spread of social games is all about distribution, not original gameplay.

The 2010 China Social Game Summit (CSGS) is in Beijing on April 9-10, 2010. The website is here and the schedule is here. China Social Games will be live blogging the action!
Benjamin Joffe of +8* posted his complete commentary "Sorting Failure From Success in Social Networking | The Tencent Case" in response to our latest piece "3 Reasons Why Tencent's Qzone is a Failure." Thanks to Benjamin Joffe for posting this!
While the overall success of Tencent as a company is pretty obvious, our friends from Blogger Insight took the specific case of Tencent's SNS properties Qzone, QQ Campus and Xiaoyou to see how they were performing. Their conclusion is that Tencent pretty much failed at SNS. Our take is less conclusive. Read the full piece here.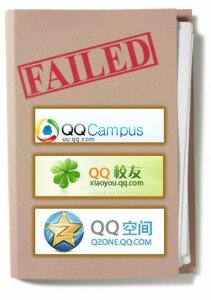 Qzone, "the largest social network in China," and Tencent's other SNS (QQ Campus and Xiaoyou), are failures for three reasons:
Squandered Opportunity: 

Chinese internet giant Tencent was enviously positioned to dominate social networking, but blew its chance. QQ Campus failed. Xiaoyou is far behind the competition. Qzone does not reach any new demographics.

The Site's Design and Features are Lousy: 

The Qzone website is an unintuitive eyesore. Its applications are of poor quality and frequently inaccessible.

Is Qzone Really No. 1? 

Tencent's claim of 305 million active users is highly suspect; even its classification as an SNS is questionable. Its competitors are encroaching upon its core user base of young teens.
Does this mean Tencent will soon collapse? Absolutely not.
Pages
Categories
Blogroll
Archive
Meta