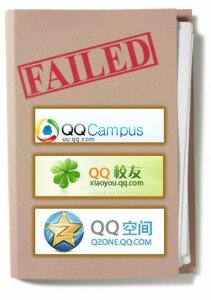 Qzone, "the largest social network in China," and Tencent's other SNS (QQ Campus and Xiaoyou), are failures for three reasons:
Squandered Opportunity:Â 

Chinese internet giant Tencent was enviously positioned to dominate social networking, but blew its chance. QQ Campus failed. Xiaoyou is far behind the competition. Qzone does not reach any new demographics.

The Site's Design and Features are Lousy: 

The Qzone website is an unintuitive eyesore. Its applications are of poor quality and frequently inaccessible.

Is Qzone Really No. 1? 

Tencent's claim of 305 million active users is highly suspect; even its classification as an SNS is questionable. Its competitors are encroaching upon its core user base of young teens.
Does this mean Tencent will soon collapse? Absolutely not.
Pages
Categories
Blogroll
Archive
Meta