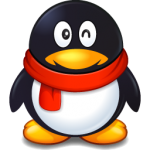 Originally posted at VentureBeat
Tencent, a Chinese internet giant in instant messaging, social networks, and mobile, posted $1.8 billion in 2009 revenues, an increase of 74% from a year ago. For the record, that's about three times Facebook's in 2009 revenues.
Tencent's flagship product, QQ Messenger (with a cute penguin logo), is the first introduction to the internet for most Chinese teens. It claims a whopping 523 million active users. Tencent then cross-promotes its other online offerings: QQ Show, QQ Game, QQ Music, QQ Pets, and its social network, Qzone.
Tencent is the undisputed world leader in micropayments. Each QQ service is connected to a "diamond membership" of a different color, that offers free and exclusive virtual goods. For instance, the "red diamond" membership helps you dress up your avatar for face-offs against other online fashionistas in QQ Show. About 10% of Tencent's active users pay for such memberships, which cost around $1.50 per month. Over 75% of total revenues come from these "internet value-added services," which grew 94% in 2009.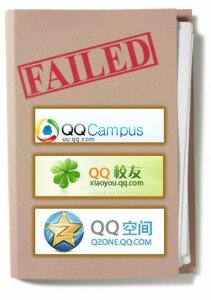 Qzone, "the largest social network in China," and Tencent's other SNS (QQ Campus and Xiaoyou), are failures for three reasons:
Squandered Opportunity: 

Chinese internet giant Tencent was enviously positioned to dominate social networking, but blew its chance. QQ Campus failed. Xiaoyou is far behind the competition. Qzone does not reach any new demographics.

The Site's Design and Features are Lousy: 

The Qzone website is an unintuitive eyesore. Its applications are of poor quality and frequently inaccessible.

Is Qzone Really No. 1? 

Tencent's claim of 305 million active users is highly suspect; even its classification as an SNS is questionable. Its competitors are encroaching upon its core user base of young teens.
Does this mean Tencent will soon collapse? Absolutely not.
Are Chinese More Addicted than Westerners?
The Top 10 Social Games in China (a new report released by BloggerInsight) details the exploding social gaming market in China and analyzes how game companies can compete to succeed.
Parking Wars received a lot of attention for its initial success but has since been outpaced. Happy Farm hit next and still continues its mainstream popularity, now reaching 27m DAU in China and basically matching FarmVille's 29m DAU on Facebook. China's enthusiasm for social games at least matches and arguably exceeds that seen on Facebook.
China's social games are similar to those on Facebook in terms of themes: the top 10 includes farming, aquarium, pet, and restaurant games. However, further analysis yields some unique characteristics in terms of the developer industry, competitiveness, and popularity.
#1 Happy Farm
It's hard to overstate Happy Farm's popularity. In addition to the real deal, there are countless copycats and countless games have adopted the addictive mechanics.  Chinese versions are more competitive than their Western counterparts: they allow users to steal and add worms and weeds to friends' farms.
Pages
Categories
Blogroll
Archive
Meta