Originally posted at VentureBeat
There is no single dominant network, no Facebook for all of China. The actual Facebook.com is blocked by government censors (Chinese sites all obediently and quickly remove "objectionable" content). No single social network will conquer the China market in the immediate future, least of all a foreign one.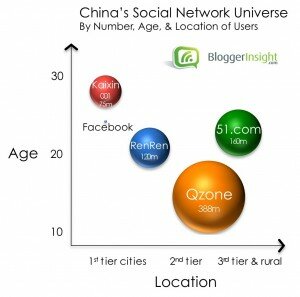 Instead, there is fierce competition between the top four:
RenRen (formerly Xiaonei) copied the Facebook model: it started with students and has since opened to all.
Kaixin001 attracted white-collar office workers by focusing on fun, addictive social games.
Qzone gained young teens and rural users via cross-promotional traffic from QQ Messenger.
51.com started strong in lower tier cities, but growth has since slowed.
This post will assess market share, profile the top four, and boldly predict the future.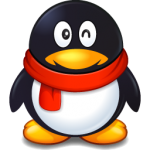 Originally posted at VentureBeat
Tencent, a Chinese internet giant in instant messaging, social networks, and mobile, posted $1.8 billion in 2009 revenues, an increase of 74% from a year ago. For the record, that's about three times Facebook's in 2009 revenues.
Tencent's flagship product, QQ Messenger (with a cute penguin logo), is the first introduction to the internet for most Chinese teens. It claims a whopping 523 million active users. Tencent then cross-promotes its other online offerings: QQ Show, QQ Game, QQ Music, QQ Pets, and its social network, Qzone.
Tencent is the undisputed world leader in micropayments. Each QQ service is connected to a "diamond membership" of a different color, that offers free and exclusive virtual goods. For instance, the "red diamond" membership helps you dress up your avatar for face-offs against other online fashionistas in QQ Show. About 10% of Tencent's active users pay for such memberships, which cost around $1.50 per month. Over 75% of total revenues come from these "internet value-added services," which grew 94% in 2009.
Pages
Categories
Blogroll
Archive
Meta