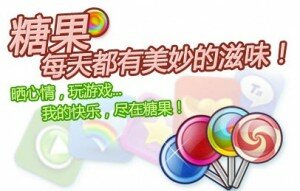 Candy (Tang Guo / 糖果) mixes microblogging, social games, and badges, a mashup of Twitter, Facebook, and FourSquare. While most social networks are scaling back social games to focus on real friends (e.g., Facebook, RenRen, and Kaixin001), Shanda's Candy embraces games (with a semi-open platform) and nicknames.
It's almost cliché for Chinese internet giants to launch a microblog or social network; nearly all have tried. The challenge for Candy (in Beta) is to gain initial traction and to achieve user retention. The latter could be challenging for such a casual site, there's a reason the other social networks are moving away from that model.
Candy reflects Shanda's effort to diversify into casual games. Over 86% of Shanda's 768 million USD in 2009 revenues came from Massive Multiplayer Online Role Playing Games (MMORPGs), while casual games accounted for just 12% of revenue. As Shanda's bread-and-butter MMORPGs like Woool and Mir 2 age, it is imperative that the firm finds new hits or market models.
Farm games are a craze on social networks worldwide, but its origins are mistaken. The story of farm games is a reflection of the young social games industry: rife with copycats, riches, and misunderstandings.
Origins
Most social games are far from revolutionary: farm games pre-date their social network successors by 15 years. SimFarm, released by Maxis in 1993, is the earliest to this author's knowledge. Harvest Moon, released by Victor Interactive Software in 1996, further popularized the genre. To date, the spread of social games is all about distribution, not original gameplay.
Originally posted at VentureBeat
There is no single dominant network, no Facebook for all of China. The actual Facebook.com is blocked by government censors (Chinese sites all obediently and quickly remove "objectionable" content). No single social network will conquer the China market in the immediate future, least of all a foreign one.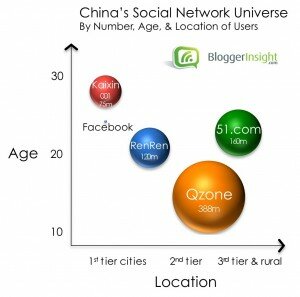 Instead, there is fierce competition between the top four:
RenRen (formerly Xiaonei) copied the Facebook model: it started with students and has since opened to all.
Kaixin001 attracted white-collar office workers by focusing on fun, addictive social games.
Qzone gained young teens and rural users via cross-promotional traffic from QQ Messenger.
51.com started strong in lower tier cities, but growth has since slowed.
This post will assess market share, profile the top four, and boldly predict the future.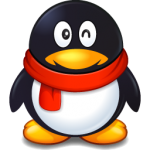 Originally posted at VentureBeat
Tencent, a Chinese internet giant in instant messaging, social networks, and mobile, posted $1.8 billion in 2009 revenues, an increase of 74% from a year ago. For the record, that's about three times Facebook's in 2009 revenues.
Tencent's flagship product, QQ Messenger (with a cute penguin logo), is the first introduction to the internet for most Chinese teens. It claims a whopping 523 million active users. Tencent then cross-promotes its other online offerings: QQ Show, QQ Game, QQ Music, QQ Pets, and its social network, Qzone.
Tencent is the undisputed world leader in micropayments. Each QQ service is connected to a "diamond membership" of a different color, that offers free and exclusive virtual goods. For instance, the "red diamond" membership helps you dress up your avatar for face-offs against other online fashionistas in QQ Show. About 10% of Tencent's active users pay for such memberships, which cost around $1.50 per month. Over 75% of total revenues come from these "internet value-added services," which grew 94% in 2009.
The Chinese social game market is still in its infancy, but growing up fast. The first smash hits, Friends for Sale! Parking Wars, and Happy Farm are just over a year old in China. Here are 5 predictions for 2010:
1. Social Games Displace Web Games
Social games have a superior distribution model for reaching unprecedented demographics, including females and middle-aged users. These users are open to casual gaming, but unlikely to seek it out on 3rd party websites, as required by web games. Social games go viral by using existing services (social networks) and trusted references (friends). Social games are more than a fad.
Moreover, in-game social interaction has only scraped the surface. At the moment, it's very limited: players can visit a friend's game and leave a footprint (steal crops, play with pets, decorate a room). Once more games offer synchronous gameplay and allow friends to chat, expect social games to become more popular still. Casual web games don't connect friends in the same way.
As a result, social games enjoy unprecedented numbers of users. In China, Happy Farm has an estimated 23m daily active users across all platforms. On Facebook, FarmVille has blasted past 27m daily active users in only 6 months. Explosive growth will continue in 2010 and web games will be left in the dust.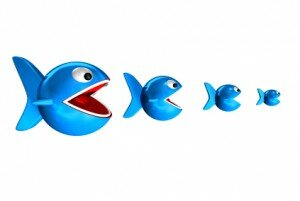 2. Consolidation of Game Developers
The days of a few friends developing a hit from the dorm room are over. The Facebook market has already seen consolidation on a colossal scale, with huge paydays: Playfish (300m USD merger with EA), Zynga (180m USD funding), RockYou! (70m USD funding), and Playdom (43m USD funding). Production values are rising in China too, with RenRen Restaurants (copy of Playfish's Restaurant City) and Happy Pet (copy of Playfish's Pet Society). Developers will need more resources, serious teams and finances, to develop the next hit game.
China's consolidation will be on a miniature scale compared to Facebook though. In fact, it has already begun: Five Minutes, developers of Happy Farm, scored 3.5m USD from Draper Fisher Jurvetson on Dec. 1. And Rekoo, developers of Sunshine Farm, received 1.5m USD from Infinity Venture Partners.  China will follow Facebook developers here: expect more consolidation in 2010.
The Chinese government seeks a harmonious society. But it's Facebook's social games that are cooperative, while China's closer resemble the Ultimate Fighting Championships.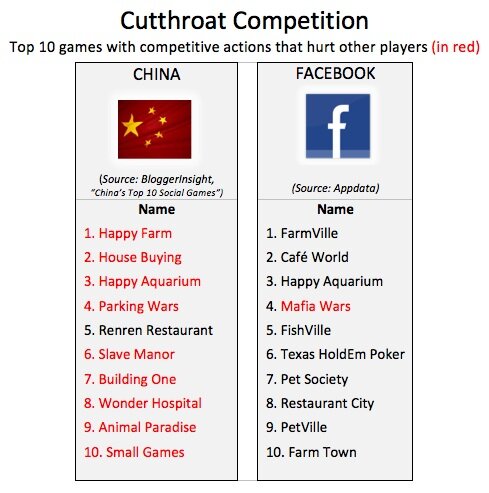 9x as Competitive as Facebook?
Of China's top 10 social games, 9 feature competitive actions that hurt other players (see graphic); the one exception is Renren Restaurant, an exact copy of Playfish's Restaurant City on Facebook. Of Facebook's top 10 games, only 1 features competitive actions. Chinese players cherish intense competition.

Pages
Categories
Blogroll
Archive
Meta