Originally posted at VentureBeat
ChinaJoy, China's equivalent of the Electronic Entertainment Expo (E3), is famous for its thousands of show girls, new title releases, and the flashy sports cars of the top executives behind it all. This glitz not only attracts droves of young men—potential gamers—like moths to a light, but also reflects the rich fortunes of hardcore online games in China.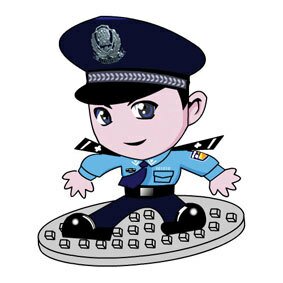 Yesterday (June 22nd, 2010) the Ministry of Culture of the People's Republic of China released new regulations on online games, which will come into effect on Aug 1st, 2010. All online and social games will be subject to stricter scrutiny going forward.
The most sweeping change is the requirement of real names and valid ID, which would completely change the anonymous nature of the Chinese internet. The vast majority of gamers and BBS and QQ users use nicknames rather than real names. Networks, portals, and game developers are all likely to balk unless the policy is vigorously enforced.
The other key change is that online platforms are prohibited from selling virtual currency to minors (under 18). Tencent, the Chinese internet giant that caters to teens, had its stock fall about 5% in Hong Kong upon the news, despite issuing a statement that it would not be affected.

In June 2008, VentureBeat wrote: "The good thing is that PopCap's games are well known in China. The bad news is that most retail versions are pirated."
1.5 years later those words still ring true, but PopCap remains upbeat. PopCap is a patient pioneer: "PopCap prioritizes taking the time to get it right – whether that's building a new game or approaching a new market. We're investing in China as a market for the long term, we're not looking for short term gains," said Giordano Contestabile, Senior Director of Business Development for the Asia/Pacific, in a recent interview with China Social Games. On Twitter:
PopCap has two advantages in China: 1) its games are already wildly popular; and 2) its games are family friendly, suitable for the China market. PopCap's big disadvantage is that its primary monetization model, "try and buy" downloads, is a loser in pirate-infested China. The real challenge in China is developing a new business model, not new games.
Popular with Chinese Pirates
"When I meet someone in China and introduce my work, I often hear, 'Ohh, my grandma, mom, and I all play your games.' Possibly 100 million people play Zuma in China, but we've sold virtually none of the copies," said Mr. Contestabile.
PopCap's "Plants vs. Zombies" (Chinese: 植物大战僵尸), a charming cross of Tower Defense and Happy Farm, is another smash hit in China. The recently released title costs 20 USD and is not officially sold in China, but the pirated copy is available for free from a number of major Chinese download sites. The translated Chinese text is so professionally integrated into the game that I first believed it to be a genuine Chinese edition by PopCap (it's not).
The Chinese social game market is still in its infancy, but growing up fast. The first smash hits, Friends for Sale! Parking Wars, and Happy Farm are just over a year old in China. Here are 5 predictions for 2010:
1. Social Games Displace Web Games
Social games have a superior distribution model for reaching unprecedented demographics, including females and middle-aged users. These users are open to casual gaming, but unlikely to seek it out on 3rd party websites, as required by web games. Social games go viral by using existing services (social networks) and trusted references (friends). Social games are more than a fad.
Moreover, in-game social interaction has only scraped the surface. At the moment, it's very limited: players can visit a friend's game and leave a footprint (steal crops, play with pets, decorate a room). Once more games offer synchronous gameplay and allow friends to chat, expect social games to become more popular still. Casual web games don't connect friends in the same way.
As a result, social games enjoy unprecedented numbers of users. In China, Happy Farm has an estimated 23m daily active users across all platforms. On Facebook, FarmVille has blasted past 27m daily active users in only 6 months. Explosive growth will continue in 2010 and web games will be left in the dust.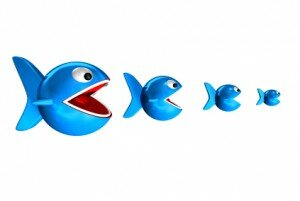 2. Consolidation of Game Developers
The days of a few friends developing a hit from the dorm room are over. The Facebook market has already seen consolidation on a colossal scale, with huge paydays: Playfish (300m USD merger with EA), Zynga (180m USD funding), RockYou! (70m USD funding), and Playdom (43m USD funding). Production values are rising in China too, with RenRen Restaurants (copy of Playfish's Restaurant City) and Happy Pet (copy of Playfish's Pet Society). Developers will need more resources, serious teams and finances, to develop the next hit game.
China's consolidation will be on a miniature scale compared to Facebook though. In fact, it has already begun: Five Minutes, developers of Happy Farm, scored 3.5m USD from Draper Fisher Jurvetson on Dec. 1. And Rekoo, developers of Sunshine Farm, received 1.5m USD from Infinity Venture Partners.  China will follow Facebook developers here: expect more consolidation in 2010.
The Chinese government seeks a harmonious society. But it's Facebook's social games that are cooperative, while China's closer resemble the Ultimate Fighting Championships.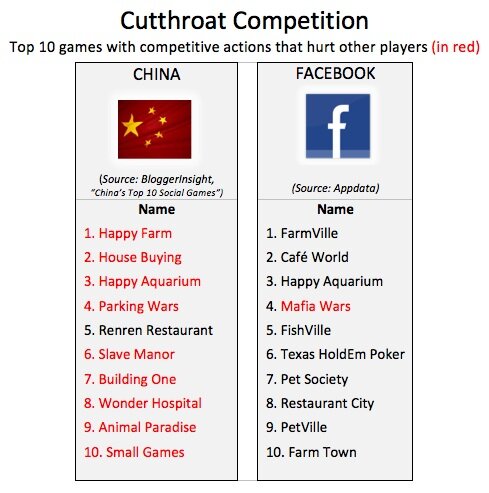 9x as Competitive as Facebook?
Of China's top 10 social games, 9 feature competitive actions that hurt other players (see graphic); the one exception is Renren Restaurant, an exact copy of Playfish's Restaurant City on Facebook. Of Facebook's top 10 games, only 1 features competitive actions. Chinese players cherish intense competition.

Pages
Categories
Blogroll
Archive
Meta