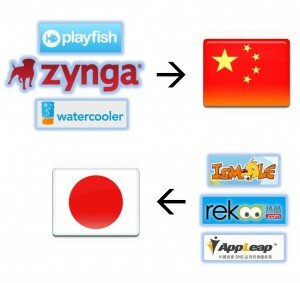 China's social games industry—the players, games, rules, and business models—is evolving at a blistering pace. China's Top 10 Social Games and Top Social Networks, a new report by BloggerInsight, analyzes the latest changes.
Only a year ago, social games in China were developed by individuals or a small team on a shoestring budget, destined for RenRen (then Xiaonei) or other Chinese networks. Today, buoyed (and pressured) by investment (primarily foreign), developers have formed serious teams and launch their games in more lucrative markets.
The new business model for Chinese developers is to set sights on overseas markets, with Japan as a primary target. Average revenue per user (ARPU) in Japan is up to 12x greater than in China, according to an estimate by Jia Shen, CEO of RockYou. Most Chinese developers see Japan, Korea, Brazil, and Russia as easier markets than Facebook (and head-to-head competition with the like of Zynga), although the Chinese-language Facebook communities in Hong Kong and Taiwan are still good bets. Of course, it won't be long before the Zyngas of the world also launch in lucrative markets like Japan.
In China, monetization remains a challenge for developers, despite the massive popularity of social games. The combination of low ARPU, powerful networks (read: zero or low revenue share), and an unstable regulatory environment, makes it exceedingly difficult for developers to reap significant profits. For this reason, most foreign developers have not tried launching games in China.
Instead, the top social game firms have come to China for the comparatively cheap and abundant talent. All the big boys—Zynga, Playfish, Playdom (rumored), PopCap, Slide, and WaterCooler–are now present, with several others players eyeing acquisitions. China's market holds enormous promise—MMORPGs and Tencent make huge moneymakers via virtual goods—but that day has not yet arrived.
The Top 10 Social Games in China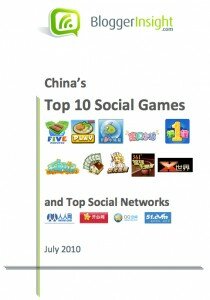 In terms of the top games, restaurant and pet games are now hot, while a few older hits have fallen off the map. Since the last edition of the report in December 2009, four of the top ten titles have been replaced: Parking Wars, Slave Manor, Animal Paradise, and Small Games. Among the newcomers, three are very localized (Promotion, X-World, and 361° Basketball) while one (Happy Baby) is a knockoff of a Western game.
#1Â  Happy Farm
Arguably the first SNS farming game worldwide, Happy Farm, was developed by Five Minutes, a Chinese developer. Its simple "plow, plant, water, pick, and repeat" formula has since conquered the world. Moreover, the addictive, log-in-every-hour mechanics have spawned countless copycats and variants. Chinese versions are more competitive than their Western counterparts: they allow users to steal and add worms and weeds to friends' farms.
#2 RenRen Restaurant
Renren Restaurant is a copy of Restaurant City by Playfish on Facebook. The social network Renren, despite having a mostly open API, had its in-house game developers copy the game almost screen-for-screen. The game's relative sophistication (3D graphics, high social interaction) indicates the future of China social games. As Chinese developers become more accustomed to such features, titles will undoubtedly become more original.
#3Â  Happy Aquarium
Happy Aquarium = pet game + Happy Farm underwater. Fish games are rapidly growing both in China (Happy Aquarium, Bubble Fish) and on Facebook (FishVille, Fish Isle). In fact, Hong Kong developer 6waves transferred Happy Aquarium to Facebook in Chinese, where it is has enjoyed remarkable success (1.9m DAU, No. 21 game overall). Game themes and mechanics translate across China and Facebook.
#4 Happy Baby (NEW entrant)
Happy Baby is a classic pet game in a cutesy style that copies Playfish's Pet Society. There are plenty of variants and combinations for the user to create a "dream baby." One industry insider cited this Happy Baby as the highest-grossing title on RenRen, the biggest open platform for social games in China.
#5 Building One
In Building One, users virtually live, work (e.g., by opening a hairdresser or spa), and socialize together in a single tall tower. Visually, this creates an appealing skyscraper to explore. Stealing customers and coins from other shops is a key part of the game. You can see from the picture you can develop different parts of the building, such as a restaurant with a dining area where you can serve cakes and whatever else you want to cook for your guests. It's like a bunch of different simulations in one game.
#6 Promotion (NEW entrant)
Based on a popular Chinese book and film (The Promotion of Dulala), this workplace simulator allows Chinese white-collars to virtually become the star employee they always dreamed of. Users start out poor and lowly, for example with an internship at a fast food company, but can pull themselves up by their virtual bootstraps to become an online Donald Trump. The game has a sharp eye for Chinese humor that appeals to local users.
#7 House-buying
House Buying is the most popular game on Kaixin001, China's hottest social network. House Buying innovatively combines a real estate section, Happy Farm, a pasture section, and Parking Wars into a single game with a common currency. For example, grow bamboo in your farm to feed pandas in the pasture, which can in turn be sold for cash to pimp-your-house. Because Kaixin001 develops all games in-house, it offers unparalleled integration.
#8 Wonder Hospital
In Wonder Hospital, users heal patients to acquire money and fame. The game includes innovative and controversial ads: a zeppelin flies overhead promoting the Yu Ting brand of contraceptives. Moveover, in-game actions are especially nasty. When visiting a friend's hospital, players can enforce fines, steal patients, throw rubbish, let a dog loose, park a truck to block access, and 'mystery mischief' indicated by a bomb icon. This could change as the government "integrates" social games into its harmonious society.
#9 361° Basketball (NEW entrant)
361° Basketball is a team-management game that is fully branded by the Chinese sportswear brand 361°. To prepare for "PKs" against other teams, players train by watching brand videos from the "Equipment Shop," where they can also buy virtual 361° products.
#10 X-World (NEW entrant)
X-World New York is a game in the style of Mafia Wars! The game has the same "task list" mechanics, but the theme is muddled as mafia games are officially banned in China. It's one of five new 3rd party games included in Kaixin001's new open platform experiment.
Kai Lukoff is an analyst at BloggerInsight and an editor on China Social Games. Follow Kai on Twitter
Pages
Categories
Blogroll
Archive
Meta