Kaixin001 is experimenting with an open platform, inviting select third party developers to participate. Kaixin001 lags behind RenRen and 51.com, but all Chinese social networks are now slowly but surely moving towards openness. Kaixin001 is immensely popular with Chinese white-collar workers, with a total of 25 million daily active users (86 million registrations).
It originally rose to prominence by spamming and its viral social games (Parking Wars and Happy Farm). At its peak Kaixin001's Happy Farm had 15 million daily active users and still has over 10 million today, according to Hans Tung, a partner at Qinming Venture, which invested in Kaixin001. Although Kaixin001 since refocused on relationships, games are one of the most lucrative monetization channels for social networks.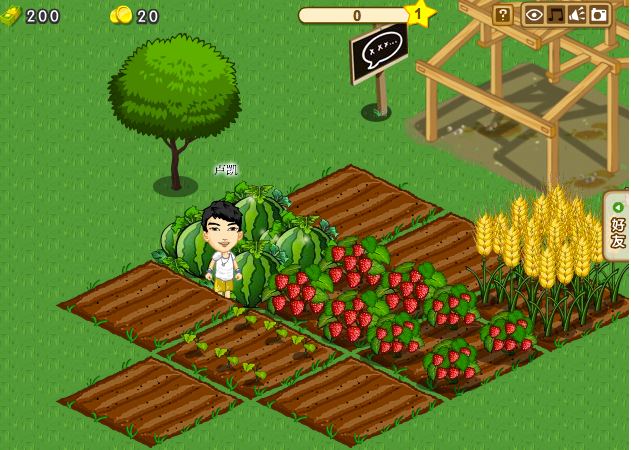 Kaixin001 opened the platform to 3rd party applications on May 12, 2010. The network did a good job of copying games in-house at first, but as the expectations of users rise, Kaixin001's offerings look increasingly anemic: its development team is slow (it needed 6 months longer than RenRen to copy Restaurant City by Playfish).
Its new open platform is divided into four sections:
In-house apps
Third party apps
Application laboratory
Web games
1) In-house Apps
Kaixin001 itself has produced 45 applications, of which 9 are games. RenRen is an "open platform," but continues to develop apps in-house to the chagrin of third party developers. Likewise, Kaixin001 may well continue to develop some apps in-house.
2) Third-party Apps
The newly added 3rd party applications include seven social games and five other applications. Facebook generates huge revenues from 3rd party social game developers (Zynga is the largest advertiser), but Chinese social networks have not yet able to effectively monetize this channel.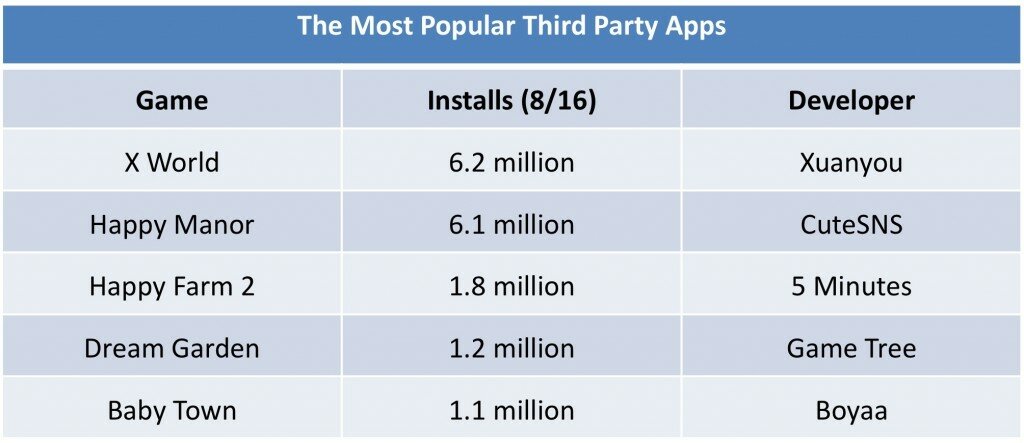 RenRen's contracts stipulate that third party developers cannot place their games on Kaixin001 for at least 6 months after launch on RenRen. Kaixin001 has responded in kind, offering 80% revenue share to developers who sign an "exclusive," but only 60-70% for others, according to an industry insider. That's still more generous than RenRen, which offers developers at most 56% revenue share for games that exceed 200,000 daily active users.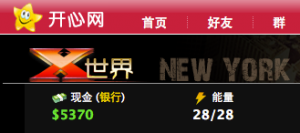 For the same game, average revenue per user is 2-3 times higher on Kaixin001 than on RenRen, according to Tung. "We're quite pleased with the results so far," said Tung. The ascendancy of Kaixin001's open platform may create a better bargaining position for Chinese game developers.
3) Application Laboratory
The application laboratory is testing 9 social games and 8 other applications. Only select users and their friends can beta test these games; it appears Kaixin001 intends to retain significant control over the number and quality of applications that are accepted onto its platform.
4) Web Games
All social networks push MMORPGs, the traditional moneymakers in China's gaming industry. RenRen is reportedly generating 3 – 5 million RMB per month through that channel according to Calvin Ng, who runs an MMORPG company. Benjamin Joffe, CEO of the internet market research firm +8*, comments: "This is also why Sohu, Sina, Netease moved to online games. SNS are also great user acquisition channels!"
Kaixin001 generated 100 million RMB in revenues in the first half of 2010 (80% from advertising). If all goes well with its open platform experiment, Kaixin001 will soon be cashing in on new social games as well.
Kai Lukoff is an analyst at BloggerInsight and an editor on China Social Games. Follow Kai on Twitter
Pages
Categories
Blogroll
Archive
Meta