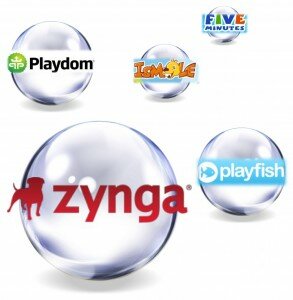 The moderator of the Financing for Social Games panel at ChinaJoy challenged panelists, "Is social gaming a fad? If so, let's wrap this up in the next five minutes. Then we can all go home and start a Groupon clone instead." Responses were mixed on the future financial fortunes of social game developers, though no one foresaw a collapse.
A consensus did emerge that more social games will target niche audiences. Panelist Atul Bagga, Vice President at ThinkEquity, commented, "So far we see horizontal applications, that is games that everybody is playing: your mom, your granny, your niece, your daughter. I think there is a lot room for vertical applications, for the smaller niche, for example, Watercooler's Kingdoms of Camelot. It does not have huge usage, but the game kicks butt because the ARPU (average revenue per user) is very high."
Chinese developers recognize the trend towards originality and verticality, but it's a far greater challenge than producing farm game derivatives. First, they have to develop for a foreign audience, as revenues in China are still insufficient. Most Chinese developers see Japan, Korea, Brazil, and Russia as easier markets than Facebook (and head-to-head competition with the like of Zynga), although the Chinese-language Facebook communities in Hong Kong and Taiwan are still good bets.
Second, capturing a niche often requires an unfamiliar game design and appeals. Hans Tung, a partner at Qinming Venture, comments, "The hurdle for these developers to come up with very good vertical games… is much, much, much harder. In China all the massive multiplayer online game developers all know that social games are big. They all know that women are playing games now. But they don't how to make those games for women. We talked to 11 listed game companies in New York and Hong Kong and most of them suck at making games for women."
The growth market in vertical social games is a worldwide trend that will require still greater innovation on the part of Chinese and foreign developers alike. But the rewards could be rich: if developers are able to deliver, even the more closed Chinese social networks may open up their platforms—and valuable users—to third party developers.
Kai Lukoff is an analyst at BloggerInsight and an editor on China Social Games. Follow Kai on Twitter
Pages
Categories
Blogroll
Archive
Meta